In the vast world of materials science, isostatic pressure can play a critical role—particularly in processes like Hot Isostatic Pressing (HIP). This foundational principle is at the core of our technology, enabling the Kittyhawk team to deliver high-quality solutions to a diverse range of industries.
To understand how Hot Isostatic Pressing works, you first need to grasp the concept of isostatic pressure. By definition, isostatic pressure refers to pressure that is exerted equally in all directions. If you imagine an object that is submerged deep underwater—the water pressure isn't just coming from one direction, but from all around.
Hot Isostatic Pressing utilizes a similar concept but in a dry, controlled, and high-temperature environment. During the HIP process, components are placed inside a pressure vessel and subjected to both high temperatures and high pressure uniformly from all directions. This unique combination of pressure and temperature effectively eliminates internal voids and defects, creating denser, more durable parts.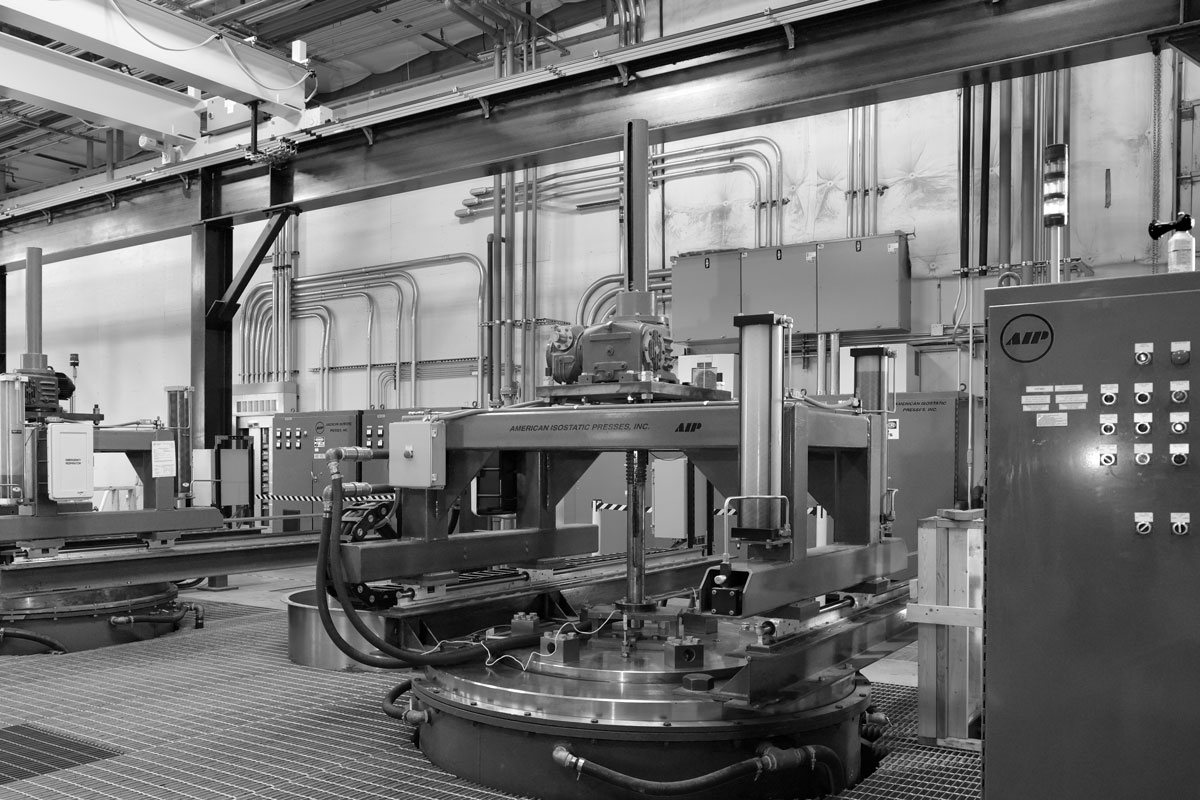 Hot Isostatic Pressing equipment at a Kittyhawk facility.
This technology is an incredibly versatile tool in the context of various metal manufacturing methods. From casting to forging, and from powder metallurgy to additive manufacturing, isostatic pressure—applied via Hot Isostatic Pressing—is often employed to improve the material properties and integrity of the final product. The application of isostatic pressure is crucial to high performance industries such as aerospace, defense, automotive, oil & gas, medical, and commercial sectors as well.
At Kittyhawk, our high-quality finished components deliver unparalleled durability and longevity to these industries. The HIP process ensures a level of integrity and reliability that far outstrips conventional manufacturing methods alone and has set Kittyhawk apart since we were established in 1981. Our work allows us to create parts that stand the test of time and function, driving industries forward and pushing the boundaries of what we can create.
To learn more about our services and how we can help transform your manufacturing process: CONTACT US →
---

About Kittyhawk
Kittyhawk Inc. is a premier provider of Hot Isostatic Pressing services, established in 1981. We cater to various industries such as aerospace, defense, automotive, oil & gas, firearms, medical, and commercial, delivering quality parts with quick turnaround times. Adhering to AS9100 and NADCAP standards, we also comply with ITAR and EAR import and export regulations and hold a CLASS 07 FFL. Visit www.kittyhawkinc.com to learn more.